BETTER BUILD NOW
SERVICES
Better Build Now is a residential construction management company that offers three main residential building construction services to our clients
Residential Construction Project Manager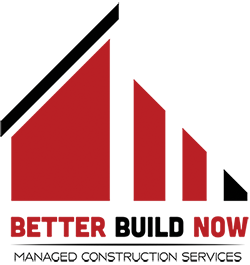 Having a custom home built is a dream come true for many people. That dream, however, can become a nightmare without the right experience. Many homeowners will find the burden of serving as their own project manager can become overwhelming very quickly, especially when construction begins.
For instance, for arguments sake, let's say that your home has begun construction and the dry wall crew is scheduled to start on a Tuesday, but the framers are running late, your electrician has delayed due to staffing shortages, and you are having problems getting the inspector to reschedule so you can close the walls… what would you do?
The answer is easy…  you call Build Better Now to be your residential construction project manager, and we deal with that problem instead of you pulling your hair out trying to figure out how to fix it.
Just a few of the services we will provide as the project manager are:
To learn more about our construction project manager services, click here.
Residential Construction Consultant
Purchasing a new home is an investment. A big investment. To that point, you want to ensure the home is not only your "vision," but also that your investment is protected. It is quite easy to be taken advantage of in this business, so our primary objective as your construction consultant is to protect your investment.
In this business, experience is everything, and our team is loaded with experience. When issues arise, rest assured, we have more than likely seen them before and will have a game plan to address them.
Some of the services we provide as your residential construction consultant are:
There will be times when your construction project goes off the rails. Some of the causes of what is considered a construction "defect" are:
Without a doubt, these problems can cause time delays and an increase in the overall cost of the project.
When these defects happen, as your construction defects representative, we get to the root cause of the problem to establish liability. Our team examines the entire structure, from top to bottom, from start to finish, to investigate the project and locate the source of the defect.
We will provide you with a detailed report, which will include a damages evaluation, a complete analysis of the defect, as well as a plan of action to resolve the problem (this will include estimated costs associated with the fix and all corrective actions that need to be taken).
These services are available to architects, attorneys, construction managers, contractors, homeowners, program managers, and subcontractors.

Our most comprehensive service, overseeing the entirety of the project from start to finish.

We advise and assist on project planning to protect your investment.

When a project goes wrong, we find the root cause and develop a plan to correct it.
Building Construction Services
For a new homeowner, building construction services can play a key role in allowing your project to come to completion on time and within the allotted budget. Better Build Now offers a variety of building construction services to suit all your needs. We can come in and take over the project completely as a
construction project manager
, or just serve as a consultant to help you get the ball rolling.
What Are Building Construction Services?
Better Build Now offers three basic building construction services:
Homeowners need to realistically look at how much involvement they want to have in their project. If they have the time and experience to oversee the job, they may only need a construction consultant. If, however, they lack the experience to oversee a job, the project manager option is probably the best option to choose.
Some of the services offered at these levels of service are pre-construction planning, generating estimates, procurement planning, contactor bidding, and design help, just to name a few.
Construction defects is something entirely different that will deal with any litigation that comes about due to issues such as faulty plans, product failure, improper specifications, and quality of work. When these types of issues happen, there are likely to be delays the project, which often result in a financial penalty of some sort for one or all of the parties involved.
Do I Need Help on My Residential Construction Project?
This is the question all this really comes down to. In most cases, the answer to that question is going to be "yes." If you do not have some specifically looking out for your interests on a project, you are more or less relying on the contractor to serve as the project manager. So, let me ask you this question… when push comes to shove, whose interest do you think the construction manager will have as his priority when it comes to tough decisions? Does he make a call on something that will benefit him or the homeowner?
This all starts right from the start, when plans are being drawn up, supplies are being ordered, and labor schedules are being drawn. The contractor is looking to have the fastest build possible with the lowest costs to maximize his profits. You also want a fast build, but there could be just a small difference in the products used or minor details that are important to you that go overlooked when you are trusting a contractor to look out for your needs.